Student Profiles
Startup Profile: SuiteSocial
Founded by Jennifer DeAngelis,
SuiteSocial
is a dynamic pricing marketplace connecting creators with brands. The startup team completed the LaunchPad Virtual Mentorship Program in 2020.
---
This story was originally published on the Techstars blog. View here.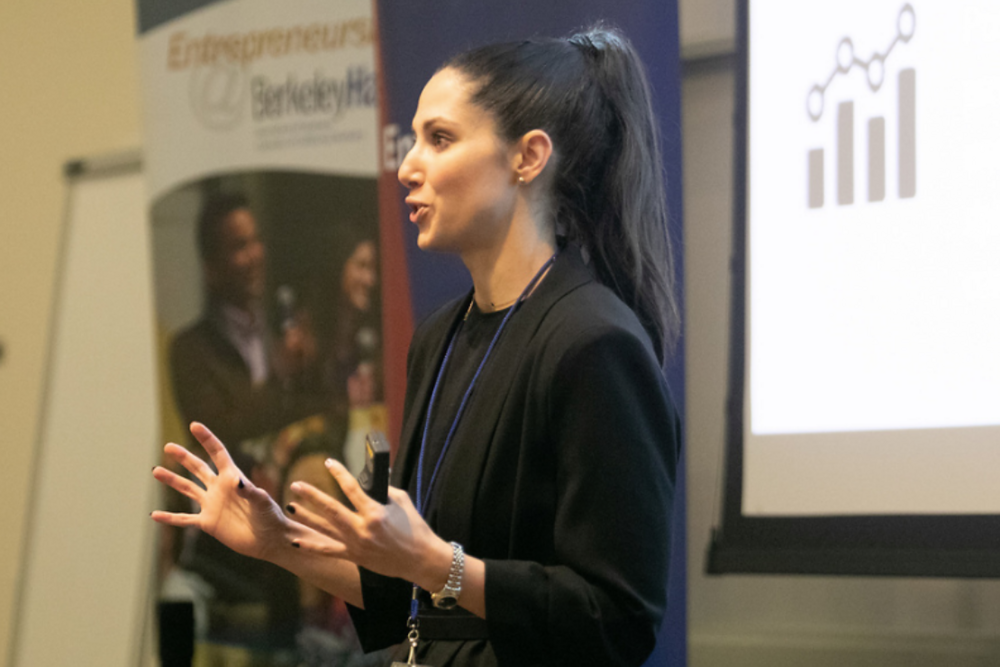 As an intrapreneur who founded and led the digital division at a top Los Angeles PR firm, Jennifer DeAngelis recognized a major disconnect in strategic alignment, pricing, and ultimately trust, between brands and influencers. To solve these issues, she co-founded SuiteSocial while a University of California Berkeley Haas School of Business MBA student and participant in the school's LaunchPad program.
"At the PR firm, I worked with more than 200 clients – many of which were Fortune 500 companies," said Jennifer. "In working with influencers to support these brands, I discovered an array of logistical issues from contracts and negotiation, to invoicing, impact measurement, and more."
Jennifer co-created SuiteSocial alongside Connor Kennedy (UC Berkeley Computer Science) to address these problems and improve the dynamic between corporate clients and their Gen Z content creators and influencers. Through AI, SuiteSocial empowers creators to promote their talents and to build their own businesses while negotiating a dynamic price on each brand-making collaboration. SuiteSocial's mission is to make the next generation of workers in the passion economy a happy and profitable workforce.
Unique Offering in a Rapidly Changing Environment
As a creator-first platform, SuiteSocial gives creatives all the tools they need to transform their abilities into real business. While 86% of generation Z want to become influencers and many have the creative skill sets needed to succeed in the "passion economy," few have the business acumen or access to the right tools to succeed in terms of profitability. Furthermore, the challenge of fair pricing is being exacerbated by platforms like Instagram and Facebook testing the removal of "likes."
To overcome this challenge, SuiteSocial uses artificial intelligence to help brands and influencers match up with their demographic "soulmates" at a price as dynamic as the duo – taking the guesswork out of negotiations and increasing brand conversions/sales, all while building trust.
LaunchPad Experience
Jennifer certainly recognizes the opportunities uniquely available to students entrepreneurs facilitated by their schools. In LaunchPad's Virtual Mentorship Program, she was matched with Adeel Javaid founder of VisioTech Solutions and tech influencer and marketing expert, Beth Blecherman. Adeel and Beth are experts in their fields and have helped to guide SuiteSocial to level up their product and positioning. Adeel often reminds the team that every problem has a solution, it's just about putting in the work to find one.
"Being a student entrepreneur at UC Berkeley Haas and in LaunchPad's Virtual Mentorship Programhas been a really special experience," said Jennifer. "Guest speakers, from prominent venture capitalists to successful entrepreneurs, are frequently available to us – just the kind of contacts that are otherwise extremely difficult to pin down."
As a caution to student entrepreneurs in the LaunchPad network, Jennifer warns young founders not to be too disheartened by the fundraising process: "You can't take the rejection personally. It's par for the course and if an investor isn't excited by your idea, often it's the idea that's the problem, not you."
Impact of Coronavirus Pandemic
For Jennifer, the primary issue raised by COVID-19 was a freeze on raising investment. "Fundraising has been put on hold until investors have more clarity," she said. "What we were seeing out there was less friendly terms and just individuals and funds less willing to invest."